There is an expectation for women to 'bounce back' after pregnancy, which means reversing drastic physical changes to the body. For most women, stretch marks, extra skin, and excess tummy fat can contribute to lasting confidence issues after childbirth.
Fortunately, there are five ways to improve the appearance of your post-pregnancy belly, including surgical and non-invasive interventions. We discuss how an experienced plastic surgeon can fix your insecurities using a Tummy Tuck surgery. You'll learn about the surgery, the benefits and the risks involved. An all-in-one solution for mums combines the Tummy Tuck, Liposuction and breast reconstruction into one transformative procedure to reverse the changes of pregnancy. Compare the Adbdominoplasty surgery and the Mummy Makeover.
Click on one of the links to jump to that section
Five ways to correct your post-baby belly
You'll understand the difficult challenge of losing your belly pooch after pregnancy. It takes months of recovery. Meanwhile, you have the full-time responsibility of a newborn to care for. Nonetheless, when you can finally prioritise yourself again, here are some ways to improve the appearance of your mummy tummy.
Change your diet to prioritise protein and fibre. Also, choose whole foods over processed ones. You'll find it more difficult to overindulge while nourishing your body. Don't forget to include your favourite treats from time to time so your lifestyle is sustainable.

Include regular exercise 3-4 times per week. A combination of resistance training and aerobic exercise helps to increase your calorie expenditure, build muscle strength and improve overall health and wellness.

Try skin tightening for mild skin concerns. Microwave, radiofrequency or another non-invasive body treatment can improve skin tightness and collagen production. This may be suitable for helping with mildly loose skin and stretch marks.

Try Liposuction for stubborn baby fat. Liposuction is minimally invasive and removes subcutaneous fat, usually from the midsection, to improve the appearance of the waist and hips.

Opt for a Tummy Tuck surgery. The abdominoplasty is useful for removing excess skin, fat and severe stretch marks from the stomach. The patient can benefit from a flatter and tighter tummy after giving birth.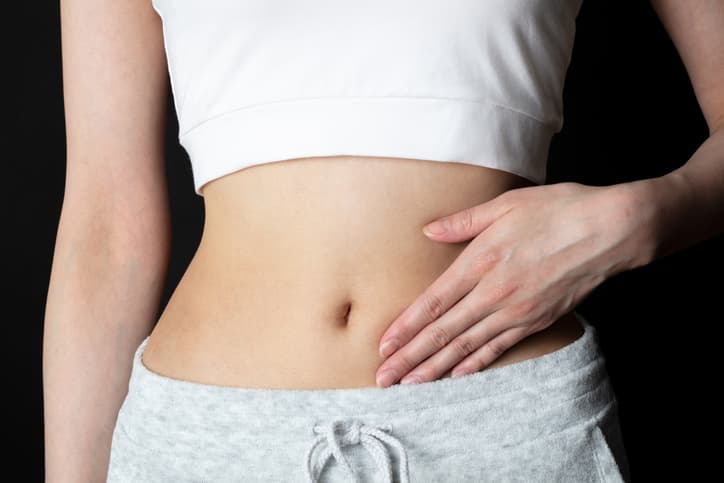 What's involved in the Tummy Tuck?
This common procedure removes loose or overhanging abdominal skin and fat after pregnancy, significant weight loss or if you have a stubborn belly pooch. Rapid weigh gain during pregnancy or becoming pregnant later in life may increase your chances of permanently loose abdominal skin. Excess fat removal is one benefit of Tummy Tucks. However, obese patients shouldn't choose this surgery as a weight-loss option due to the risks.
An experienced plastic surgeon will carry out the following during the patient's procedure:
Horizontal incisions in the lower belly (full Tummy Tuck and Mini Tummy Tuck), and sometimes vertical incisions downwards from the belly button – if the patient's stomach needs lateral tightening (Fleur-De-Lis Tummy Tuck).

Remove excess fat and skin in the abdominal area.

Repair the abdominal muscles with permanent sutures – in cases of diastasis recti (abdominal muscle separation).

Close the patient's wounds, leaving minimal scar tissue along the bikini line and, in some cases, the lower belly.
If you choose a Tummy Tuck with Elena Prousskaia, you will have a comfortable overnight stay at North Bristol Private Hospital to ensure you recover well from this extensive plastic surgery.
What are the benefits of the Tummy Tuck after pregnancy?
You should choose the Tummy Tuck if you have excess skin, stretch marks, stubborn belly fat or an overhanging tummy. You've exhausted alternative options to improve the appearance of your stomach. Here's how the Tummy Tuck results can transform your body.
Removes excess skin

Removes your most severe stretch marks

Removes stubborn belly fat

Permanent tightening of the abdominal muscles

Achieves a flatter, more toned stomach

Improves your confidence

The Tummy Tuck scar will hide on the bikini line
Achieve your pre-pregnancy body with a Tummy Tuck
What are the risks of the Tummy Tuck after pregnancy?
Unfortunately, an abdominoplasty is associated with higher risks than most cosmetic surgery procedures. Experts estimate this is three times the usual risk for non-obese patients (4-28%). So, weighing up the risks and benefits of the plastic surgery is important for you.
Obesity is the number one risk factor for Tummy Tuck surgery; your risks are as high as 53%. We never recommend using the tummy tuck for significant weight loss because the risks could outweigh the benefits.
Some potential complications are as follows:
Haematoma, seroma

Deep vein thrombosis

Infection

Embolism (blood clot)

Sensation changes

Neuropathic pain

Poor wound healing
If you experience severe pain & swelling (after the first five days following a Tummy Tuck), fever, or numbness in the arms and legs, seek immediate medical help, as these are signs of more severe complications.
What is recovery like after the Tummy Tuck?
It takes 8-12 months to fully recover from this extensive plastic surgery. In the first two weeks, you must rest at home and avoid straightening your tummy. At 4-6 weeks, you can get your dressings removed and return to office work. You can start gentle exercise and housework after eight weeks and introduce your normal exercise routine at 8-12 months. The following lists Tummy Tuck recovery week by week.
Timeline

Activities

1 week

Recovery from home
No straightening of the stomach

2 weeks

Home working possible

4 weeks

Dressings removed
Office work possible
Driving possible

6 weeks

Light movement, such as housework & walking

8 weeks

Gentle exercise such as floor yoga

8 weeks

Inense exercise possible – seek advice from your surgeon
Should you get a Tummy Tuck or the Mummy Makeover?
Do you struggle with breast sagging, asymmetry, or lost/gained breast volume? You could benefit from a combined surgical procedure. The Mummy Makeover is a transformative surgery for mums who have exhausted the alternative options for correcting their figure. The Mummy Makeover involves breast enhancement such as a breast lift, breast augmentation (breast implant surgery) or breast reduction, Liposuction, skin-tightening and a Tummy Tuck.
If you're self-conscious about your post-baby breasts and belly, you could combine procedures and minimise your trips to the hospital and your recovery time with the Mummy Makeover. Compare the benefits of the Mummy Makeover and the Tummy Tuck.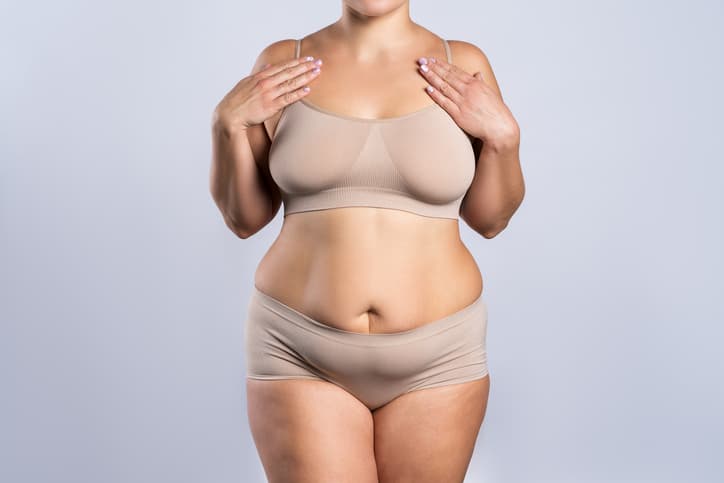 Tummy Tuck

Mummy Makeover

Remove excess belly fat

Remove excess skin

Remove severe stretch marks

Repair the abdominal wall

Achieve a tighter and flatter stomach

Remove excess belly fat

Remove excess skin

Remove severe stretch marks

Repair the abdominal wall

Achieve a tighter and flatter stomach

Get perkier breasts

Enhance or remove breast volume

Correct breast asymmetry

Remove excess fat deposits in flanks, love handles and upper belly (with Liposuction).

Tighter and more youthful-looking skin
Restore your pre-baby body and more with the Mummy Makeover
View the Mummy Makeover gallery
One patient notes their experience with the Mummy Makeover saying "having a mommy makeover really helped me have confidence about how I look and feel about myself".
Another patient also documented her journey "after loosing 6 stone through exercise I felt even less confident as I was left with a lot of excess skin on my tummy and breasts" after the the patient's consultation with Elena Prousskaia she felt that "[Elena] understood what it was I wanted done and why" and that "it was truly the best thing I have ever done. Elena has done an amazing job, I only ever dreamed I could look like this."
Read Elena's Testimonials or third-party reviews
Frequently Asked Questions



You should recover fully from childbirth before considering a tummy tuck. After six months, you should be able to tell if you need a surgical interventions to correct your stomach. If you want to tackle stubborn belly fat, commit to a healthy diet and exercise for at least six months before choosing surgery.



yes , a tummy tuck will not prevent you from conceiving, having a healthy pregnancy or natural birth. However, another pregnancy could reverse the results of the Tummy Tuck and the risks of secondary procedure are higher. You should wait until you've finished having children to get a Tummy Tuck.



A mini tummy tuck aims to remove fat and skin between the belly button and pubic area. A full tummy tuck targets the whole lower abdomen. A mini tummy tuck scar might be shorter than a full tummy tuck scar. Both still hide under the bikini line.



Liposuction removes stubborn subcutaneous fat deposits from almost anywhere in the body, while a tummy tuck targets excess fat and skin on the stomach only. Liposuction is useful for minimal fat removal and only leaves small dimple scars and bruising – recovery is relatively quick. Meanwhile, the tummy tuck can remove more tummy fat at once but leaves a larger scar and takes up to a year to recover from.
What to read next
Sources