Making drastic changes to your post-baby body with diet and exercise alone is easier said than done. You may have even tried body contouring procedures and didn't get the results you wanted. Considering you're willing to make significant changes to your lifestyle, are in decent health, and can afford to invest in yourself. In that case, you should think about the Mummy Makeover surgery to restore a youthful figure.
This article discusses eleven benefits of the Mummy Makeover surgery, the possible surgical risks and what to expect in recovery. We also explore the results you can expect from Elena Prousskaia – an expert in Mummy Makeover transformations. We'll help you decide whether the procedure is right for you.
Click on one of the links to jump to that section
What are the benefits of the Mummy Makeover surgery?
Pregnancy changes a woman's body in several ways, and many feel as if they should 'bounce back'; in reality, this expectation is exceptionally difficult to meet. Mums may turn to a surgical intervention to reverse the physical changes attributed to pregnancy, but there are so many immaterial reasons why women should consider this transformative procedure.
Reduce excess fat deposits in the tummy and flanks

Reduce sagging breasts and improve breast size and symmetry

Remove stretch marks and loose skin

Tighten the abdominal muscles

Improve skin tightness with body contouring

Restore your pre-pregnancy body confidence

Boost mental health and motivation

Combine multiple procedures in one

Discreet scarring along the bikini line and breast crease

Combine cosmetic surgery and non-invasive procedures

Results all at once can give a new lease on life
Read on: What are the benefits of the Mummy Makeover? 11 reasons to take the leap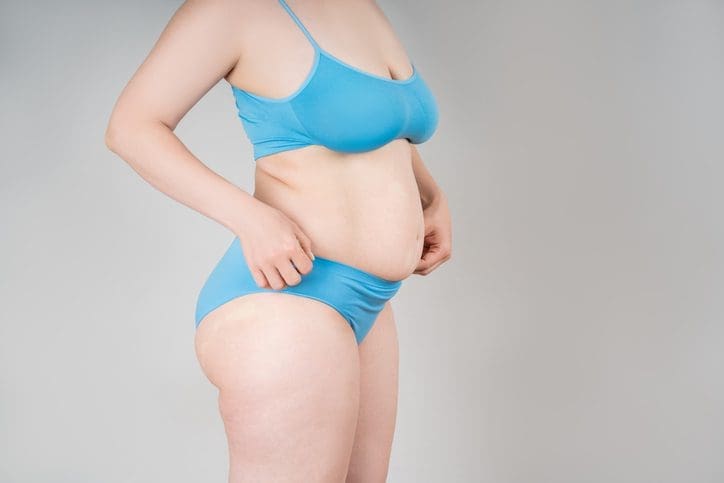 What are the possible risks and side effects of surgery?
No plastic surgeon, regardless of expertise, can eliminate all the risks. Moreover, greater risks accompany the extensive Mummy Makeover procedure from combining the Tummy Tuck and several other invasive techniques. We outline the general surgery risks below:
Adverse reactions to general anaesthesia

Infection (seek immediate medical advice)

Haematoma or seroma (easily treatable)

Sensory changes, particularly in the breast and nipples (usually temporary)

Deep vein thrombosis/embolism (rare)

Tissue necrosis (incredibly rare)
Being overweight or underweight are the biggest risk factors for surgery. Your risk is slightly higher if you smoke or are diabetic. It's important to consider any compounding risk factors that could compromise your safety.
For safety reasons, Ms. Elena advises that patients lose weight if they are above BMI 35 or gain weight if they are below BMI 18. Elena Prousskaia will assess your suitability for the Mummy Makeover at your initial consultation; she will never recommend you for a procedure that is not safe.
Read on: What are the risks of the Mummy Makeover surgery?
What is recovery like after the Mummy Makeover?
Mummy Makeover recovery is a lengthy process because it combines several procedures. It will take 8-12 months to completely heal from the surgery. However, you may be able to see the results of your surgery within 4-6 weeks; after four weeks, Elena may recommend a gentle exercise protocol and approve your return to work.
In the first two weeks, you need complete rest; prepare for moderate discomfort over the initial recovery period (pain medication is provided). If you've had a Tummy Tuck, you can't straighten or sleep on your tummy during this time. If you work from home, you can restart after two weeks.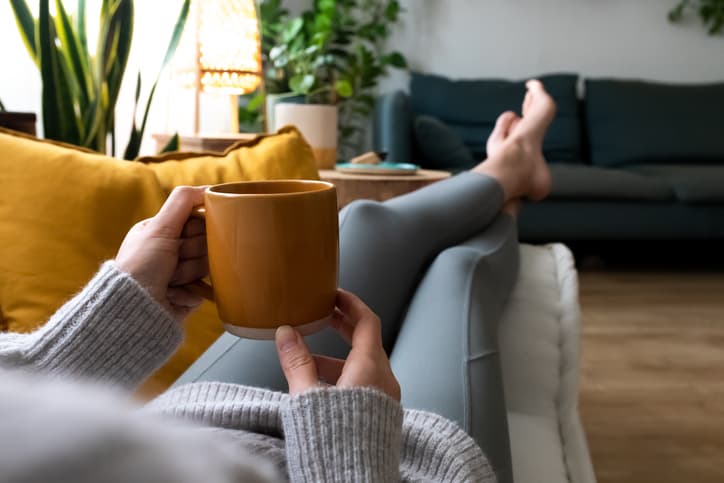 At four weeks, you can return to office-based work, driving, light movement and housework. You'll get your dressings off at your 4-week follow-up appointment to see your new figure
Your wounds should have healed at six weeks, so begin caring for them daily with a silicone-based gel for optimal aesthetic results. Gradually incorporate movement into your routine, but always follow the recovery guidelines from your cosmetic surgeon. You can return to your usual exercise routine at eight months if it involves heavy lifting or intense exercise.
Read on: What is recovery from the Mummy Makeover like? A timeline to your dream body
Mummy Makeover before & after transformations
Every Mummy Makeover recovery journey looks different; certain factors can affect your cosmetic outcome. However, Elena's experience and expertise is assuring that you'll love your new body; so many women already feel this way. View our Mummy Makeover transformations gallery.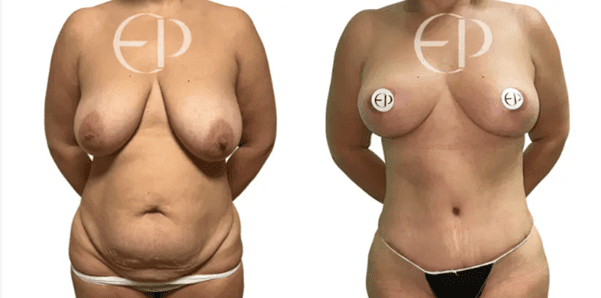 You'll typically be able to see the results of your surgery at your 4-week follow-up appointment. Still, some abdominal swelling is normal for several months following a Tummy Tuck, Liposuction and breast enhancement surgery. Your age and the extent of your surgery can also affect how long it takes to settle into your new figure. You should expect to go down a couple of waist sizes after a post-pregnancy fat removal (Tummy Tuck and Liposuction), but you may not lose weight if you've had a considerable Breast Augmentation.
Diet and exercise are crucial if you want to maintain the results of the Mummy Makeover. After all, you've endured a lengthy recovery process, and the procedure is a big financial investment. Follow these three tips for maintaining your physique:
Eat a healthy diet rich in whole foods, protein and micronutrients. A nourished and satiated body is less likely to crave processed foods.

Choose a sport you enjoy, but aim to include aerobic exercise and resistance training into your routine. It can help with motivation to exercise with friends and family.

Avoid getting pregnant after your Mummy Makeover. A new pregnancy can reverse the results of the procedure. Use birth control if you will have no more children.
Pros and cons of the Mummy Makeover
To make your decision easier, we've summarised the pros and cons of the Mummy Makeover so you can decide if the life-changing results are worth it.
Pros:
Restore your pre-baby body

Gain your confidence back

Combine multiple procedures in one

Target loose skin, excess fat, stretch marks, sagging breasts, diastasis recti, and breast asymmetry

Have discreet scarring

0% finance is available

Motivation to maintain your new figure

Improve your mental and physical health
Cons:
Lengthy recovery process

Higher-risk procedure

No working for 2-8 weeks

No intense exercise for eight months

You'll need to avoid subsequent pregnancies to maintain the results (advisable)

Possible difficulties breastfeeding with breast implants

Lasting results depend on a healthy lifestyle