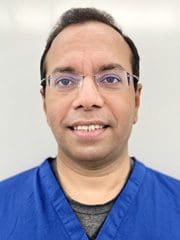 DR MANOJ POOJARY, CONSULTANT ANAESTHETIST
Dr Manoj Poojary is an Anaesthetic Consultant with more than 26 years of experience. He completed his FRCA and 5 years anaesthetic specialist training in Wales. He was appointed as Consultant Anaesthetist at Bedford NHS trust 2009 to 2012. From 2012 he has been working mainly with national cosmetic groups and private surgeons. He is also involved with Bariatric surgeries regularly. He continues to contribute in Medical Advisory Committees in private hospitals. He has published in cosmetic journals in USA and regularly gives lectures in National conferences abroad.
He is married to Dr Brinda and has 2 daughters. His hobbies include playing badminton and cycling.