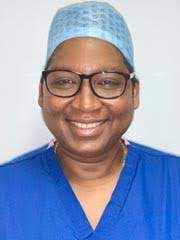 ANITA INNOCENT, BSC SPECIALIST SURGICAL CARE PRACTITIONER AND SURGICAL SERVICE NURSE LEAD
Anita is an extremely hard-working professional who takes care of safety in theatre and ensures that all our lists run very smoothly.
She has qualified as a General Registered Nurse in 1999 and has a broad expertise in a role of Clinical Service Manager in Theatre, Recovery and Endoscopy for over 13 years.
Anita is also specialised in Management of sedated patient, Health and Safety Training, Infection Prevention and Clinical Governance Compliance. Anita will always ensure that your journey in theatre is safe and all the nursing team is well coordinated.